Absco Workshop
4.48mW x 2.26mD x 2.06mH
Specifications
| | |
| --- | --- |
| Model | 45232WK |
| Size | 4.48m(w) x 2.26m(d) x 2.06m(h) |
| Width | 4.48m |
| Depth | 2.26m |
| Height | 2.06m Gable |
| Door Type | Double |
| Roof Type | Gable |
| Doors | Hinged |
| Warranty | 30 Years |
Product Description
Product Description
The Workshop Garden Shed is designed for maximum strength and manufactured from low maintenance ribbed steel sheeting. It includes Double Door and a Gable Roof. The doors are hinged for ease of use and extra strength and security.
Our 4.48 metre by 2.26 metre garden shed offers fantastic storage for medium storage requirements.
ABSCO delivers excellent quality and well designed Australian sheds.
The Cream colour has consistently been one of our most popular choices for your backyard.
The 4.48 metre by 2.26 metre Workshop Shed in Cream is unlike several other lower quality sheds on the market being manufactured from BlueScope .35mm colorbond steel.
This garden shed comes with a 30 year written warranty.
Remember to take a look at the many Accessories to go with your Shed.
ABSCO sheds are makers of high quality, easy to assemble outdoor structures. All ABSCO garden sheds are covered by a 30 year warranty and their exclusive patented SNAP-TiTE® fast assembly system makes them extremely easy to assemble.
ABSCO sheds are engineered to withstand non-cyclonic conditions, come with pre-punched holes for fast assembly and safety edges as standard.
Packed Size
| | |
| --- | --- |
| Desc | Fits in Trailer, Station Wagon or Roof Racks |
| Carton 1 | 212cms x 85cms x 7.5cms (67kg) |
| Carton 2 | 212cms x 85cms x 7.5cms (71kg) |
| Carton 3 | 310cms x 20cms x 8cms (14kg) |
Specification
Additional Information
Name
Absco Workshop
4.48mW x 2.26mD x 2.06mH
Manufacturer
Absco
Model
WorkShop
Size
4.5 metre
Door Type
Double Doors
Roof Type
Gable (triangle)
Shed Type
Workshop
Shed Types
Workshop
Delivery (Absco)
Deliveries are normally within 14-21 days depending on your location. We manufacture these sheds from Brisbane.
Home Delivery $99 - Select in checkout process
$99 to most of Australia (Brisbane, Sydney, Melbourne, Adelaide, Canberra, Perth)
If a very remote area or island, we will let you know if more.
Note: Our freight company requires all home deliveries to be to the front door only, and require:
- easy access for truck with tailgate to operate and be able to unload the shed with a trolley.
If this is not possible, you will need to assist or an additional charge of $90+GST will need to be added to the order to provide a 2 man delivery service.
When your shed arrives, they will call you on your given phone number to arrange delivery to your house. If you're not available, you can let them know where you would like them to leave your shed.
See Absco Standard Lead times below:
Accessories
To view Accessories for a particular shed: SELECT A SHED COLOUR AND THEY WILL BE REVEALED in the drop-downs below the shed colour
Anchor Set For Concrete Slab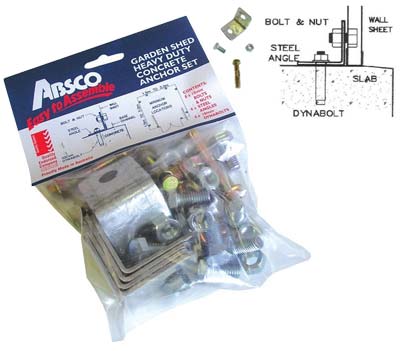 | | |
| --- | --- |
| SHED SIZE | ANCHORS REQUIRED |
| 1.50m x 0.78m | 8 |
| 2.25m x 0.78m | 8 |
| 3.00m x 0.78m | 8 |
| 1.50m x 1.50m | 12 |
| 3.00m x 1.50m | 12 |
| 2.25m x 1.50m | 12 |
| 2.25m x 2.25m | 12 |
| 3.00m x 2.25m | 12 |
| 3.00m x 3.00m | 12 |
| 3.00m x 3.70m | 16 |
| 4.50m x 2.25m | 16 |
| 4.50m x 3.00m | 16 |
| 6.00m x 3.00m | 24 |
Each of the eight anchors in the pack comprises 3 components. (1) A 50 x 45mm galvanised "L" shaped steel angle bracket, (2) A 10mm nut & bolt to secure bracket to the wall, and (3) A 10 x 50mm dyna bolt to fix to the concrete slab.
---
Skylight Sheet
Absco Skylight sheets are only available for garden sheds 2.26 x 3m or larger.
The Skylight does not need the sheets cut (you simply overlap the roofing sheet). You can cut the skylight using normal scissors if you wish to change the size (width) of it. They come with a 10 year warranty.
| | |
| --- | --- |
| Material | Fibreglass |
| Product Dimension | W:1545mm H:30mm L:330mm |
| Package Dimension | W:1550mm H:35mm L:340mm |
| Weight | 2kg |
---
Sliding Perspex Window
Absco windows are made up of two clear Perspex panels that slide along the moulded plastic frame. It allows access for natural light & ventilation. To fit, the wall sheet requires trimming. The window sits in the space on top of the cut down wall sheet, at the top of the wall panel. It is recommended that window be fitted in the wall panels of the shed that have a roof section overhanging them.
| | |
| --- | --- |
| Material | Perspex |
| Product | W:700mm H:200mm D:25mm |
| Package | W:720mm L:220mm D:35mm |
| Weight | 2kg |
---
Timber Flooring Kits - Timber Sub Floor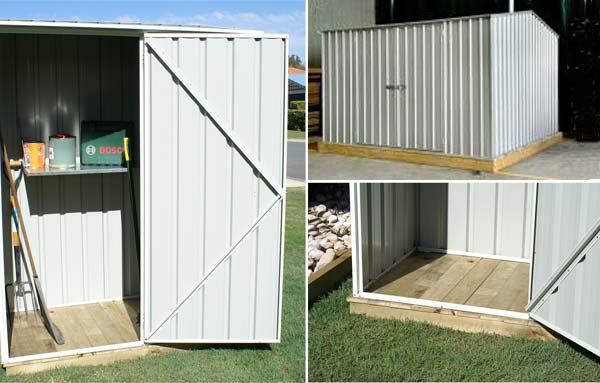 Made from 100% Australian renewable plantation grown timber. Pre-measured, pre-cut and pre-treated giving long term protection from insect and fungal attack, lifting the shed up off the ground. Ideal for sloping sites. Not recommended in high wind areas.
The flooring kits are modular to allow for multiple kits to be joined together to provide the required base size for your shed. Each kit (single module) forms a base size of 1520mm x 780mm
10 year warranty
Easy to assemble with full instructions
Product Size: 1.52m X 0.78m x 0.10mH
---
Shelves for Garden Sheds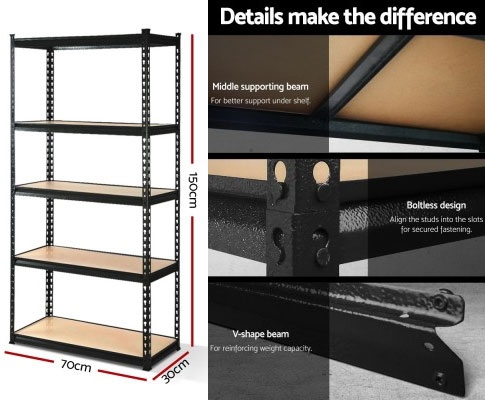 5-tier Shelving Unit that can hold up to a massive 150kg per shelf. The Unit is also built with industrial strength steel with ample supporting beams and braces to hold and keep the structure firm and steady when fully loaded.
Features
* 150KG capacity per shelf
* Industrial strength steel construction
* Beams and braces
* Adjustable shelf height
* Boltless assembly
* Reinforced frame
* Coated finish for rust resistant
Specifications
* Product Size: 70 x 30 x 150cm
* Capacity: 150kg/tier
* Tiers: 5
* Color: Matte Black
* Weight: 9KG
The shelving is adjustable and fits nicely in our sheds with 1.8m height. If a lower shed, the shelves can be separated to create 2 separate shelves side-by-side.
---
Cyclone Kits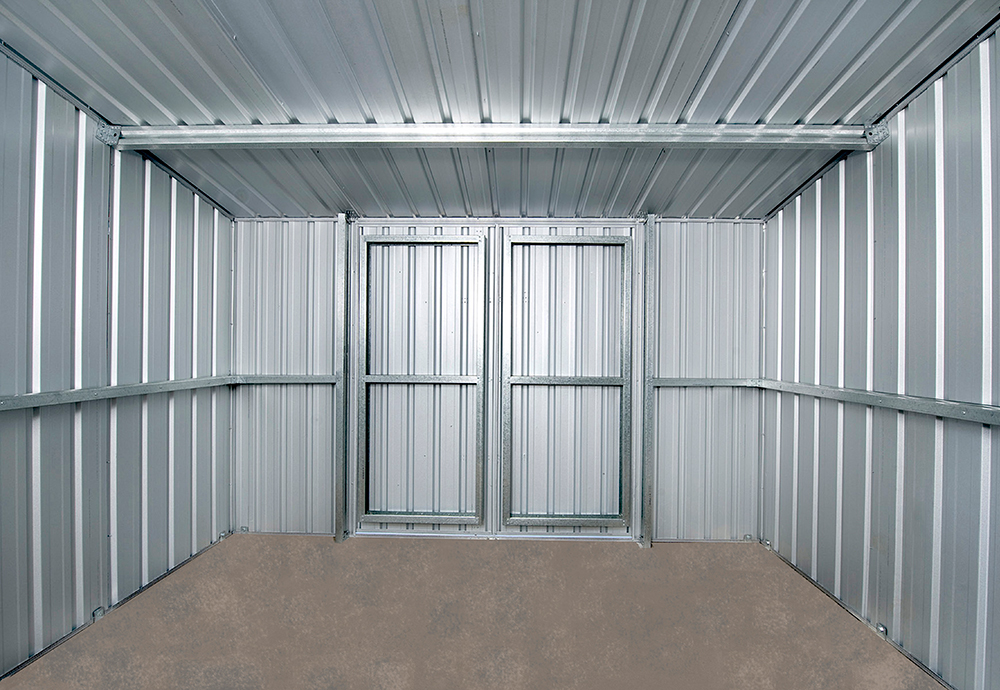 Most Absco Garden Sheds are rated W41(C1) to withstand winds of up to 147km/hr. By adding a Cyclone kits to your Absco product it will increase the wind rating of the product to rated W50 (C2) and can withstand winds of up to 180km/hr.
Made from quality Australian galvanised heavy duty steel
Upgrade wind rating to 180km/per to ensure the shed is cyclone proof
Easy to install with most components pre-cut to size
30 year warranty
* Cyclone Kits are not suitable for Space Saver Range, Ezi Slider Range, Highlander Range, Basic Shed Kits and all Aviaries.
| | | |
| --- | --- | --- |
| KIT TYPE | SUITABLE FOR SHEDS | SHED TYPE |
| CYC23 | Up to 2.3m x 2.3* | Regent and Premier Ranges ONLY |
| CYC30 | Up to 3.0m x 3.0m | Regent and Premier Ranges ONLY |
| CYC30372 | 3.0m x 3.66m | Regent 30372RK Shed ONLY |
| CYC4560 | 4.5mW and 6.00mW | Workshop and Utility Range ONLY |
---
Chook Feeder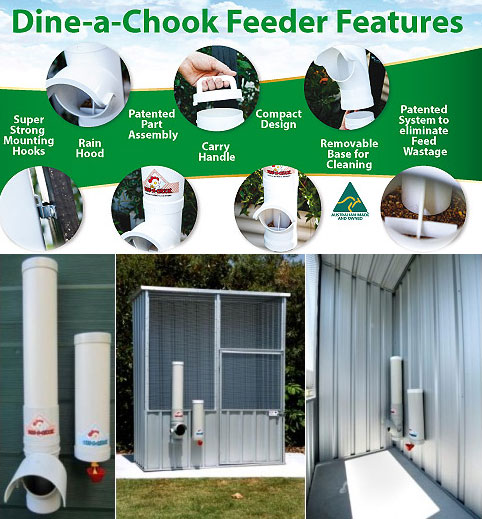 Dine-A-Chook Chook Feeder
Made up of a 3 litre Drinker and Feeder - can mount to the Aviary shed or any surface. They are made to be rain and rodent resistant.
---