EasyShed Spacesaver
1.50m x 1.50m
Flat (slight angle)
Specifications
Model

EFS1515

Size
1.50m(w) x 1.50m(d) x 1.82m(h)
Width
1.50m
Depth
1.50m
Height
1.82m Highest point / 1.80m Walls
(May be upgraded to 2.10m Wall - see options)
Door Type
Single Door
Roof Type
Flat (slight angle)
Doors
Hinged
Warranty
Lifetime
Availability: In stock
Price From:
Special Price: $498
Was: $716
Product Description
EasyShed features include:
• Proudly 100% Australian Made and Owned.
• Exclusive range of 25 Colour Options.
• Manufactured from high tensile steel (0.35mm - thickest on the market).
• Easy-to-follow 5 Step Assembly® sequence
• EdgeSAFE® rolled safety edges
• Innovative ScrewSAFE® technology
• 100% recycled packaging.
• Lifetime Warranty
At EasyShed, we use precision, state-of-the-art roll-forming technology, for an easy-to-assemble product that will withstand the harsh extremes of our Australian climate.
The EasyShed range has been Australian made and owned for more than 30 years. When you purchase an EasyShed, you're not just buying a superior product, you're supporting Australian manufacturing, logistics and more than 400 of our reseller partners nationwide.
The steel has a zinc-alloy treatment which offers extra protection, coated to the base steel. For pre-painted models we rely on Colorbond, so you can be assured your finish will resist chipping, peeling and cracking. Non-combustible, weather-resistant and secure, your EasyShed will perform as perfectly as any high-performance zinc aluminium cladding used in domestic construction.
Our high-tensile 0.35mm Bluescope steel is the thickest sheeting material used in the Australian garden shed market. Our products are fabricated from steel coils, which we then process through modern roll-forming machines. The end result is a ridged, high-performance steel sheet with a structural strength that is second to none in the industry.
Packed Size
| | |
| --- | --- |
| Carton 1 | 210cm x 85cm x 7cm |
Specification
Additional Information
Name
EasyShed Spacesaver
1.50m x 1.50m
Flat (slight angle)
Manufacturer
EasyShed
Model
Spacesaver
Size
1.5 metre
Door Type
Single Door
Roof Type
Flat (slight angle)
Shed Type
Xtra Tall
Shed Types
Xtra Tall
Delivery (EasyShed)
Deliveries are normally within 7-14 business days depending on your location. We manufacture EasySheds from Albury and hence deliveries to WA can take a few days longer than the east coast.
FREE Home Delivery for Metro Melbourne & Sydney. Confirm in checkout page by entering your postcode and suburb.
$99 within other CBD areas (Brisbane, Sydney, Melbourne, Adelaide, Canberra, Perth(within 20km is $175)). For longer distances, you will be quoted in the checkout page.
Or contact us for a quote outside this range. Note: If delivery costs are higher, we will always let you know before placing the order to give you options. And we do not make money on the delivery - just pass on the quote (but in some cases, we will wear some of the cost to help reduce home delivery cost)
Note: Our freight company requires all home deliveries to be to the front only and require easy access for a truck with a tailgate to operate and to be able to unload the shed with a trolley. If this is not possible, an additional charge will apply to the order to allow a 2 man delivery service.
Christmas Delivery Cut Off Dates
EasyShed
Business as usual
Spanbilt
Closed: Thu 24th December - Mon 11th January
Any orders requiring delivery before Christmas are to be placed by the following dates:
Garden Sheds: Wed 22nd November (orders after 22nd will be dispatched from 11th January)
Steel Buildings: Monday 20th November
* Any orders placed after this date will still be dispatched as usual, but may not be delivered until the New Year!
** These dates are subject to freight company schedules which are out of our control
Absco
Closed: Mon 25th December - Thu 1th January
There is a high volume of orders in the system for Absco and hence we cannot guarantee delivery before Christmas.
* Any orders placed after 30th November will still be dispatched as usual, but may not be delivered until the New Year!
** These dates are subject to freight company schedules which are out of our control
MERRY CHRISTMAS & HAPPY NEW YEAR!
ENJOY YOUR BREAK AND LOOK FORWARD TO SEEING YOU IN 2024!
| | |
| --- | --- |
| | Home Delivery: $99 (or we will quote) |
Accessories (EasyShed)
To view Accessories for a particular shed: SELECT A SHED COLOUR AND THEY WILL BE REVEALED in the drop-downs below the shed colour
Anchor Set For Concrete Slab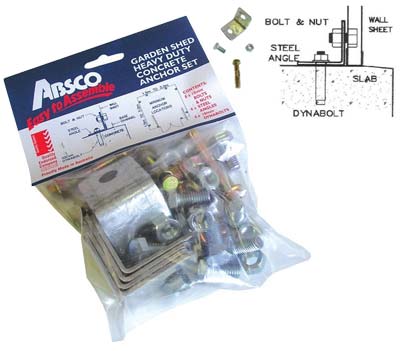 Each of the concrete anchors in the pack comprises 3 components. (1) A galvanised "L" shaped steel angle bracket, (2) A nut & bolt to secure bracket to the wall, and (3) A dyna bolt to fix to the concrete slab.
---
Skylight Sheet
EasyShed Skylights can be added to most sheds and positioned as required at the time of installation. We recommend not having more than one skylight per side of the roof for structural purposes. The skylight is made in the same profile as the shed roof.
The Skylight does not need the sheets cut (you simply overlap the roofing sheet). You can cut the skylight using normal scissors if you wish to change the size of it.
---
Five (5) Blade louvre window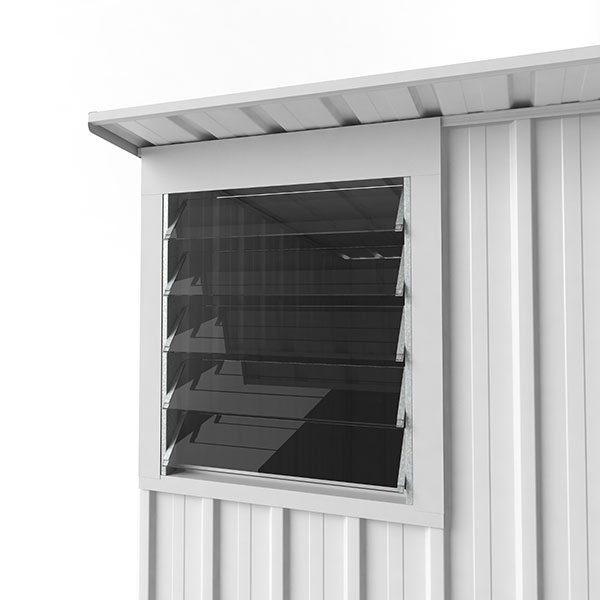 EasyShed Lockable Louvre windows are available with most sheds. It allows access for natural light & ventilation. The window sits in the space on top of the cut down wall sheet, at the top of the wall panel. It is recommended that window be fitted in the wall panels of the shed that have a roof section overhanging them. The louvre window is designed to fit above a wall sheet of 780mm size. It will not fit above slightly narrower sheet widths of 710mm size. If Gable end required, client will need to cut sheet and let us know, so we dont cut a sheet that sits under the roof overhang. Also the smaller sheds may require the window be placed on the back of the shed.
| | |
| --- | --- |
| Material | Perspex |
| Opening | W:0.61m H:0.73m |
| Lockable | YES |
---
Shelves for Garden Sheds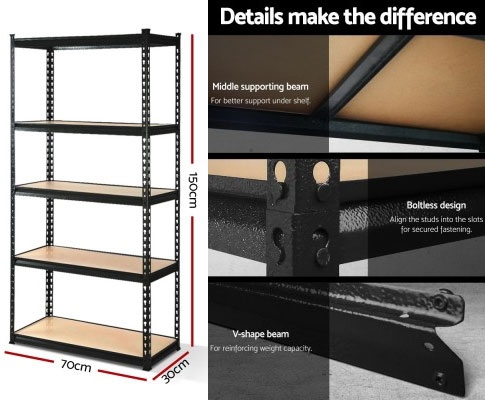 5-tier Shelving Unit that can hold up to a massive 150kg per shelf. The Unit is also built with industrial strength steel with ample supporting beams and braces to hold and keep the structure firm and steady when fully loaded.
Features
* 150KG capacity per shelf
* Industrial strength steel construction
* Beams and braces
* Adjustable shelf height
* Boltless assembly
* Reinforced frame
* Coated finish for rust resistant
Specifications
* Product Size: 70 x 30 x 150cm
* Capacity: 150kg/tier
* Tiers: 5
* Color: Matte Black
* Weight: 9KG
The shelving is adjustable and fits nicely in our sheds with 1.8m height. If a lower shed, the shelves can be separated to create 2 separate shelves side-by-side.
---
EasyShed Sliding Doors Optional
The EasyShed range has Single and Double sliding doors to select from. We can offer sliding doors to most model sheds except for Off The Wall, Aviary, Storm and Garage.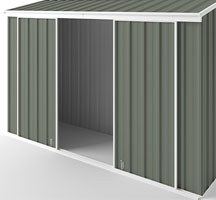 ---
EasyShed Bike Storage Hook
Rubber-coated bike storage hook to mount front or rear wheel. This hanging bike storage hooks between the wall panel and the roof and can be placed anywhere suitable in your garden shed.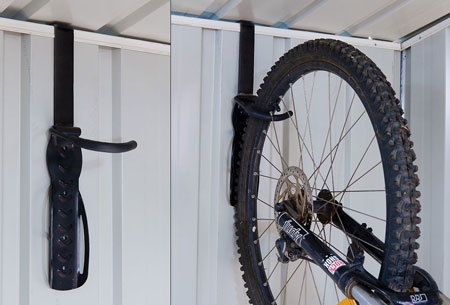 ---
25 Colorbond Colours to choose from
The EasyShed range has 25 Colorbond Colours to select from. Grey, Green, Cream and Zinc are our standard colours. The rest are our premium colours that other shed companies do not offer. So there may be an extra fee especially if the standard colour is on special.
If the Premium colours are not available in the accessories list, please request a quote for the additional price.
** Please note that Tuscan Red is no longer available.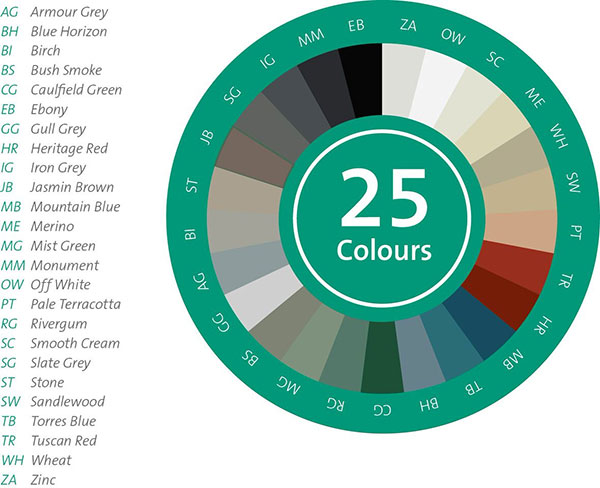 ---