Spanbilt Slimline F36
1.07m x 2.1m
Sgl Door
Spanbilt Yard Saver Garden Shed
• 15 year warranty.
So tough – Too Easy!
Specifications
| | |
| --- | --- |
| Model | Slimline, YardSaver F36-S |
| Size | 1.07m(w) x 2.10m(d) x 1.80m(h) |
| Width | 1.07m |
| Depth | 2.10m |
| Height | 1.80m |
| Door Type | 0.98 opening, Single Door |
| Roof Type | Flat (slight angle) |
| Doors | Hinged |
| Warranty | 15 Years |
Availability: In stock
Special Price: $489
Was: $579
Product Description
SPANBILT garden sheds are covered by a 15 year warranty and their exclusive Fasttrack fast assembly system makes them extremely easy to assemble.
YARDSAVER SLIMLINE RANGE
• Fast Assembly.
• Engineered for strength with a cyclone wind rating of 147km/h.
• Delivery to depot or Home Delivery. (Find the closest depot in the Delivery Tab above. Just enter your Postcode and click search.)
• Doors are hinged for ease of use and extra strength and security.
• 15 year written warranty.
• Pre-drilled holes for even quicker assembly.
• Anchor Kits included.
Package Size Our sheds are flat packed and can be transported using a Trailer, Station Wagon, Roof Racks and often hatchback with drop-down seats.
Carton 1 218cms x 37cms x 19cms (47kg)
Specification
Additional Information
Name
Spanbilt Slimline F36
1.07m x 2.1m
Sgl Door
Manufacturer
Spanbilt
Model
YardSaver
Size
1.5 metre
Door Type
Single Door
Roof Type
Flat (slight angle)
Shed Type
Narrow
Shed Types
Narrow
Delivery (Spanbilt)
Deliveries are normally within 5-10 days depending on your location. We manufacture these sheds from Brisbane.
Option 1: $33 Delivery to a Local Depot (with over 50 depots around Australia) **
The delivery company will pickup your order and take it to the closest Depot to your location (see listed below of Free Shipping Depots below). Once the order has arrived, the Depot will call you on your given phone number to let you know it is available for Pickup. Your shed will come flat packed to make it easy to pick up in a station wagon, ute, trailer or using roof racks.
Option 2: Home Delivery $99 - Select in checkout process
$99 to most of Australia (Brisbane, Sydney, Melbourne, Adelaide, Canberra, Perth)
If a very remote area or island, we will let you know if more.
Note: Our freight company requires all home deliveries to be to the front door only, and require:
- easy access for truck with tailgate to operate and be able to unload the shed with a trolley.
If this is not possible, you will need to assist or an additional charge of $90+GST will need to be added to the order to provide a 2 man delivery service.
When your shed arrives, they will call you on your given phone number to arrange delivery to your house. If you're not available, you can let them know where you would like them to leave your shed.
Pick up from Depot: $33 or
Home Delivery: $99 (or we will quote)




<== Click a State to see the delivery depots.
Accessories (Spanbilt)
To view Accessories for a particular shed: SELECT A SHED COLOUR AND THEY WILL BE REVEALED in the drop-downs below the shed colour
Skylight Sheet
EasyShed Skylights can be added to most sheds and positioned as required at the time of installation. We recommend not having more than one skylight per side of the roof for structural purposes. The skylight is made in the same profile as the shed roof.
The Skylight does not need the sheets cut (you simply overlap the roofing sheet). You can cut the skylight using normal scissors if you wish to change the size of it.
---
Shelves for Garden Sheds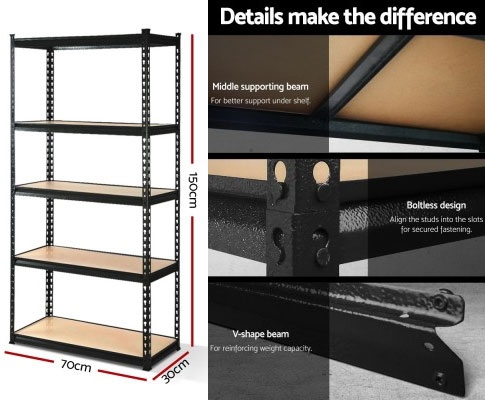 5-tier Shelving Unit that can hold up to a massive 150kg per shelf. The Unit is also built with industrial strength steel with ample supporting beams and braces to hold and keep the structure firm and steady when fully loaded.
Features
* 150KG capacity per shelf
* Industrial strength steel construction
* Beams and braces
* Adjustable shelf height
* Boltless assembly
* Reinforced frame
* Coated finish for rust resistant
Specifications
* Product Size: 70 x 30 x 150cm
* Capacity: 150kg/tier
* Tiers: 5
* Color: Matte Black
* Weight: 9KG
The shelving is adjustable and fits nicely in our sheds with 1.8m height. If a lower shed, the shelves can be separated to create 2 separate shelves side-by-side.
---
Cyclone Kit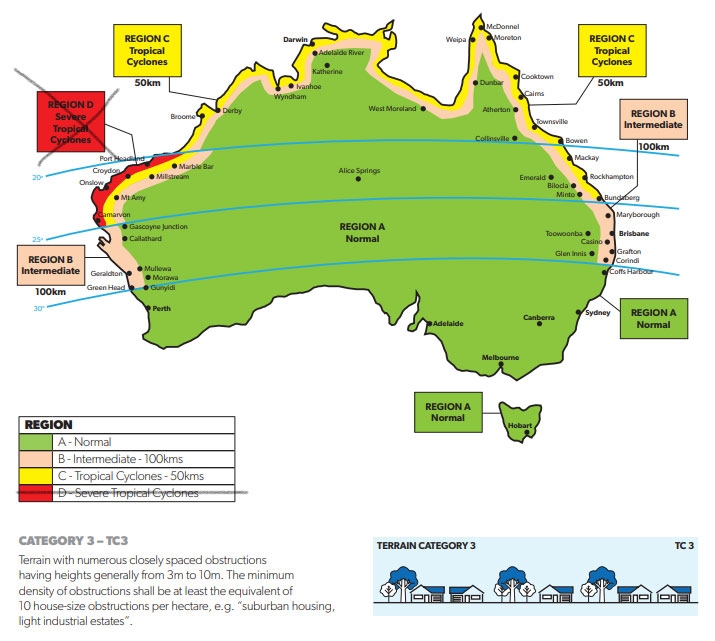 Spanbilt Cyclone Kits will increase the wind rating of your garden shed to (Region C, Category TC3). So it can be used in all areas of Australia except Region D (*).
Made from quality Australian galvanised heavy duty steel
Upgrade wind rating cyclone level
Easy to install with most components pre-cut to size
| | | |
| --- | --- | --- |
| KIT TYPE | SUITABLE FOR SHEDS | |
| SMALL | 42, 52, 53, 44, 54 | |
| MEDIUM | 26, 36, 56, 62, 63, 64, 66, 68, 78, 83 | |
| LARGE | G88, G98 | |
| X-LARGE | 1510 / 2010 | * Council approval to ensure your terrain is suitable. |
---